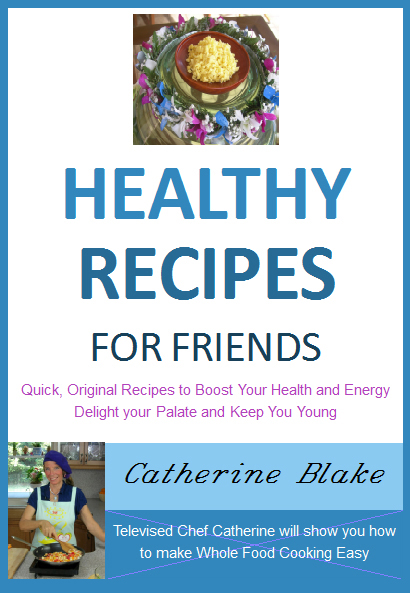 Healthy Recipes for Friends,
Soothing, Simple and Pure
by Natural Chef Catherine Blake, BA, BD.
Enjoy delightful recipes, comfort foods, amusing anecdotes, and colorful photos.
Many enticing, original recipes will guide you to new and exciting tastes that
are easy to prepare. These dairy-free whole plant recipes will
help to keep you healthy for years to come. 116 pages. 2014.
"I love your cookbook! I use it all the time. The recipes are so delicious!"
Patricia Koot, C.N.
$25 plus $6 shipping to US for the printed book (retail price $29.95).
Praise for Healthy Recipes for Friends:
"I just want you to know that I've really been enjoying your book.
I just love all of your recipes" Joan Lois Laird, professional watercolor artist.

"I wanted to let you know how much I've enjoyed that wonderful book
you wrote with all the various recipes. Great book.
Really enjoyed it."
Laurelee Blanchard, founder of Leilani Farm Sanctuary, Realtor.

"Your book is really nice." Mrs. Marjorie Peterson, Master Gardener.

"It's a great book.
The health tips and recipes make a great combination."
Rev. Andrea Miller, C.N.

"I read it cover to cover in one sitting", Patty Mortl, Lawyer.

"Cat, I have been trying many of the recipes in your cookbook.
They have been mighty tasty so far. :)"
Erin Green, Graduate student at UH Manoa.

"I love your cookbook! I use it all the time. The recipes are so delicious!" Patricia Koot, C.N.

"Thank you for your cookbook. I am really enjoying it." Mrs. Maureen Lau

"Your spicy eggplant dish was really good!" Dr. Bob and Laraine Peterson
Recipes from Healthy Recipes for Friends
"Words fail me. It was too good. Too perfect." Steve.
2 cups Portabella mushrooms, chopped
2 cups onions, diced
2 cups tofu, soft is fine
2 cups broccoli florettes, diced into 1-inch chunks
1 Tbsp tamari soy sauce
1 Tbsp umeboshi Plum vinegar
In a large skillet, put the mushrooms and onions together and cook on low heat,
covered for 15 or so minutes. The low heat melts the mushrooms,
providing water to steam the onions. Add the tofu, broccoli,
tamari soy sauce and vinegar and cover again, cooking for about
10 minutes until the broccoli is also cooked. Stir from time to time.
Serve, stand back, and listen for the happy sounds!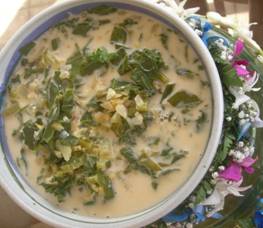 1 pound collards or kale (or spinach or chard)
1 small onion, diced
1 green bell pepper, chopped medium
1 ½ inches of fresh ginger, grated
4 cloves of garlic, crushed
1/8 tsp black pepper
1 can coconut milk, unsweetened
3 cups water (rinse the can of coconut milk with this water)
Juice of one-half lemon (add at end)
Clean greens and chop into large pieces. If you are cooking older collards, simmer collards first for 10 minutes, then add the other ingredients (except for the lemon juice) and cook another 15- 20 minutes. If you are using a more tender green, then all can cook simultaneously. Add the lemon juice at the end just before serving, and stir together. Serve with crackers and avocados. Yum!
Nutritional Highlights in 1½ cups of this soup: Folic Acid: 260 mcg. Daily need 400 mcg. Beta Carotene: 17,764 I.U's. Daily need 2,333 I.U.'s. Plenty for days! Vitamin C: 144 mg. Daily need 75 mg. Enough! Calcium: 343 mg. (Need 1,000 mg) Magnesium: 163 mg. (Need 300 mg.)

Best Friends topping
Like dear friends, the two ingredients are symbiotic. Each one makes the other sweeter and richer.
¾ cup cashews, chopped
1 cup Red Bell peppers, diced to ½ inch pieces. (The same size as the cashew pieces is ideal.)
1 Tbsp olive oil for sautéing

Sauté all of the above in a skillet on medium-low heat for 10 minutes, stirring frequently to prevent scalding of the cashew pieces. When the bell peppers are softened and the cashews are burnished brown, turn off the heat, cover and let sit for 5 minutes or so to sweeten and soften. (Not until they are mushy, though). This makes a delightful topping for anything. Serve as a side dish at any meal.
Nutritional Highlights with about ½ cup of peppers and ½ cup cashews:
Antioxidants: Vitamin C 95 mg. (75 mg. RDA), Vitamin A as beta carotene: 2348 IU (2333 IU RDA), E 9.9 mg (15 mg RDA), Minerals: Iron 7.9 mg (18 mg RDA), Zinc 6.8 mg (15 RDA), Calcium 47.7 mg (1,000 RDA), Selenium 22.8 mcg (55 mcg RDA), protein: 21g of 46 grams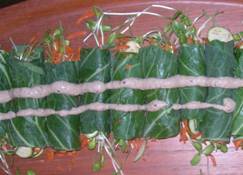 6 Large collard leaves, de-stemmed
½ cup Hummus paste
3 Grated carrots
1 cup Alfalfa sprouts
Wrap all together in the collard leaves.
Top with Creamy Walnut Dressing.
Choco-coco-pioca pudding (for Rhea)
4 cups water
1 can coconut milk (I like Thai Kitchen, 5 oz. concentrated size. It's like coconut cream!)
1 ½ tsp vanilla
4 egg replacer equivalents
¾ cup small pearl tapioca
¾ cup organic brown sugar
¾ cup Rapunzel organic cocoa powder
½ tsp sea salt
1/3 cup coconut flakes, small.

In a skillet, lightly toast the coconut flakes until golden brown. This really brings out the flavor in them. In a large bowl, first mix the egg replacer with water until smooth and then stir in the coconut milk and vanilla.
In a separate bowl mix the dry ingredients; tapioca, sugar, cocoa, salt, and coconut flakes.
Mix all the ingredients together.
Place in a double boiler and boil-heat for about ½ hour, stirring often. (About every 3-5 minutes) If you don't have a double boiler, put two burners on top of each other so the bottom doesn't burn. Serve warm or cool. Enjoy!
Quote from the book:
Health Concerns - Anxiety: Pray, meditate, write in your journal, do yoga. Breathe deeply 100 times. Go back to nature. Have less stuff in your life to deal with. Give away half of your worldly possessions. Eat pure food. Give care to someone, anyone. More often is better. Grow a small garden, and find someone to love. Any size will do. Animals are good, safe bets. Plants work too, if you're not ready for a pet.
About the Author
Televised chef Catherine Blake, BA, BD, graduated from Skidmore College in 1977. Catherine has studied nutrition, micro nutrition, herbal medicine, and natural healing for over 30 years. She has traveled extensively in Mexico and Europe and continues to learn about health and wellness of various traditions.
Catherine has been a Kitchen Health Consultant since 1985. Catherine has taught healthy cooking and women's health classes at UH, Maui Campus, since 2008. In 2007 she earned a certificate in nutritional biochemistry. She has taught at many venues in Hawaii, California and in Kansas City, Mo. In spring of 2014, Catherine taught Cooking for a Strong Mind at the Hawaii Pacific Neuroscience Healthy Brain seminar held at Castle Wellness Center.
Caring, entertaining, and friendly, Catherine is also an Interfaith Minister, ordained in 2006, and she wants to bring out the best in you. Catherine specializes in creating delicious, healthy recipes that are easy to prepare. These tasty, original recipes are designed to introduce you to a variety of wonderful foods which will lead you to long-term health. Enjoy!
Catherine serves on several volunteer boards in her community including the Leilani Farm Sanctuary. She lives on Maui with her husband Steve, 3 cats, 10 hens, 10 roosters, and visiting feral pigs.
To contact Catherine Blake email: revcatblake@gmail.com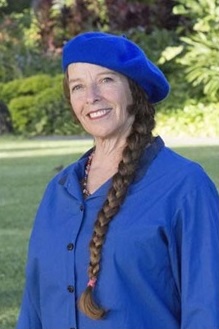 Introduction to Healthy Recipes for Friends
Aloha! It is my pleasure to share some of my recipes that I have developed over the years. In our health consultation practice I invariably get the question, "What should I eat to feel better?" Eating whole plant foods will always provide you with needed nutrients. Like sincere friends, the nourishment is real, true and lasting. When we eat refined foods we have a good time for a short while, but the energy wears off, leaving us feeling depleted and undernourished. Processed, refined, and artificial foods are the false friends of the food kingdom, robbing us of our strength.
I have been preparing three whole plant food meals daily for over 20 years. Having studied natural foods, herbal medicine, and nutrition for over 35 years, I do my best to incorporate the best of what I learn into each day. Our health is excellent and has been for years. Life is more than the kitchen and I do practice spiritual nourishment as well.
My intention is to teach you how to best care for yourselves. Our beloved teacher Bernard Jensen said, "Most diseases are inherited through the kitchen". I suggest that you try one or two recipes. Adapt them as you wish! You have a right to your favorite flavors.
Best of health and Blessings to you in the kitchen and in all your endeavors.
Rev. and Mrs. Catherine Blake