Parkinson's Disease: Dietary Regulation of
Dopamine, 2nd Edition
Steve Blake, ScD
February 2017
In this book I outline a four-step plan for Parkinson's disease.
1) The first step is to relieve the symptoms and allow
levodopa (and tyrosine) to work more effectively.
Lowering protein intake to just what we need,
rather than the usual excess, allows our bodies to
transport both levodopa and tyrosine to the brain.
I document studies where this one change has cut symptoms in half.
2) A second step is to eat certain foods that increase
the expression of tyrosine hydroxylase to allow
more dopamine to be made inside our bodies.
Sesame tahini is one example. Have you ever
wondered how all those dopamine-producing
neurons in the brain were killed off?
3) The third approach is to identify the specific
environmental pollutants to avoid in order to
preserve the remaining dopamine-producing cells.
4) Finally, we must protect our brain cells from
further damage to ensure that there is
no further progression of Parkinson's disease.
Antioxidant and anti-inflammatory foods are the key here.
My hope is that this book helps you as much
as it has helped those we have worked with,
Steve Blake, author.
$9.95 to download the entire 156 page book
Click Below:
or

$30 + $7 shipping to have the physical book mailed to you.

Your comments are welcome.
Below is a video describing parts of my approach to
Reducing risk and symptoms in Parkinson's disease: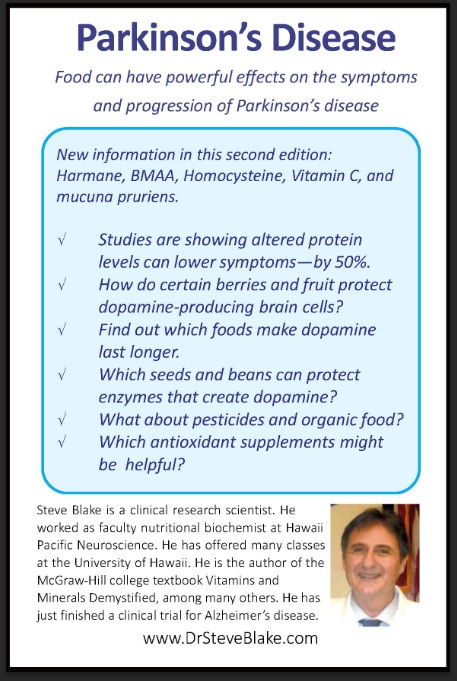 "We plan to continue the diet and it has been helpful to discover
that it is not as hard to do, as we anticipated.
There's nothing like good results to keep us motivated."
Wife and caregiver of a 35-year Parkinson's patient.
Please see below for the table of contents.
Table of Contents
Introduction 2
Table of Contents 3
Table of Figures 7
Chapter one: Introduction to Parkinson's disease 8
Three approaches to Parkinson's disease 9
Reducing excess dietary protein 9
Reducing dietary toxins that kill the cells that make dopamine 10
Oxidation and the death of dopamine-producing cells 11
Where dopamine is made 12
Reducing both risk and progression 14
Signs of Parkinson's disease 15
Progression of Parkinson's disease 17
Lewy body dementia 20
Drugs used for Parkinson's disease 22
Drug absorption and transport 23
Absorption and transport of levodopa 24
Chapter two: Lowering excess dietary protein 27
A fifty percent reduction in movement disorders 27
Why plant food? 29
Increased transport of levodopa into the brain 31
A lower protein diet helped in only one week 31
Frequency of drug use to control symptoms 32
How much protein do we need? 33
Red meat and movement problems 35
Plant fiber and smoothing levodopa effects 36
Diets to maintain weight in advanced cases 37
Compliance with a low protein diet 39
Chapter three: Neuroprotection, reducing food contaminants 42
Pesticide intake and Parkinson's disease progression 43
Lindane in dairy products 44
Cheese, milk, and risk of Parkinson's disease 45
Endotoxins 46
Less risk of Parkinson's disease with less dairy products 47
Polychlorinated biphenyls 50
Polybrominated diphenyl ethers 52
Where are PCBs and PBDEs found? 54
PCBs in organic food 56
Nutrients in eggs 56
Mercury in Fish and Parkinson's disease 57
BMAA, a seafood toxin 59
Harmane and tremors 61
Chapter four: Risk and progression of Parkinson's disease 65
Soy genistein protects dopamine production 65
Protective sesamin from sesame seeds 68
Flavonoids and Parkinson's disease 70
Nicotine-containing foods 71
Caffeine and Parkinson's disease 73
Homocysteine, folate, and vitamin B12 74
Vitamin C for more "on" time 76
Mucuna Pruriens 79
Chapter five: Antioxidants Protect Brain Cells 83
Discovery of oxidation in Parkinson's disease 83
Oxidation in Parkinson's disease patients 85
Oxidative stress 85
Excess iron and oxidation 86
Dopamine, hydrogen peroxide, and selenium 88
Sources of selenium 89
Superoxide dismutase 89
Vitamin E as an antioxidant 91
Synthetic vitamin E 91
Vitamin E, nerve inflammation and glia 92
Oxidative stress and dopamine 93
Chapter six: Antioxidants from plants 95
Antioxidants from plants Carotenoids 95
Antioxidants from plants Vitamin C 96
Antioxidants from plants Vitamin E 96
Bottled oils 96
Antioxidants from plants polyphenols 97
Antioxidant Coenzyme Q10 98
Antioxidant content of common diets 99
Super-low fat diets 101
Vitamin E can delay progression of Parkinson's disease 102
The tocopherols of vitamin E 103
Nuts without vitamin E 104
Vitamin E and beta-carotene fighting Parkinson's disease 105
Walnuts, vitamin E, and omega-3s 106
Chapter seven: Some foods reduce motor deficits 109
Cruciferous vegetables and sulforaphane 109
Cruciferous vegetables and cancer 110
Certain berries can keep dopamine-producing cells alive 111
Mulberries can relieve slow movement 112
Chapter eight: Supplements & Plants for Parkinson's disease 114
Coenzyme Q10 can be protective 114
Vitamin D Slowed Parkinson Progression 115
Ashwagandha can Increase Dopamine Production 117
Ginkgo can help dopamine production 118
Gambir may protect dopamine production 120
Turmeric protects dopamine production 121
Rosemary can protect against neurotoxicity 122
Oxyresveratrol from Red Grapes 123
Creatine 124
Chapter nine: Antioxidants and Lewy Body Dementia 126
Antioxidants Reduce Formation of Lewy Bodies 127
Baicalin reduces aggregation in Lewy bodies 128
Chapter ten: A dietary protocol for Parkinson's disease 131
References 148

Table of Figures

Figure 1 The substantia nigra (shown in red) makes dopamine 13
Figure 2 Symptoms of Parkinson's disease 16
Figure 3 Hoehn and Yahr stages 18
Figure 4 Tyrosine, levodopa, and dopamine diagram 25
Figure 5 Lindane shows up more in Parkinson's disease 45
Figure 6 Combined risk from dairy products in prospective studies on Parkinson's disease 48
Figure 7 Even organic meat can contain pesticides 49
Figure 8 Dietary sources of PCBs and PBDEs 55
Figure 9 Harmane is higher in Parkinson's disease 62
Figure 10 Harmane sources 63
Figure 11 How folate and vitamin B12 lower homocysteine 75
Figure 12 Lewy bodies 129