Return to Diet Doctor Page at DrSteveBlake.com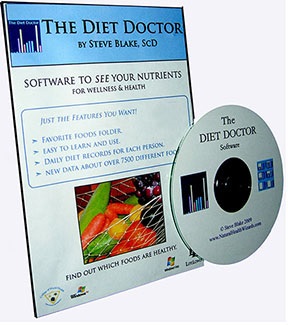 The Diet Doctor 2018
See How It Looks
Steve Blake, ScD
Dozens of colorful graphs show you the nutrients.
"The Diet Doctor Nutrition software is perfect for
visualizing your nutrition with colorful charts.
You can see which foods contribute calcium,
protein, vitamins, cholesterol and other nutrients."
The Graph below shows where the
fiber came from in this daily diet record.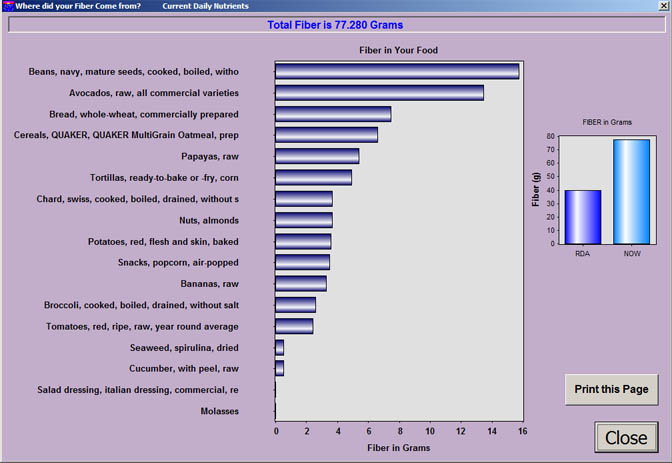 The graph below shows how complete your protein is.
You can see if you are low in any of the essential amino acids.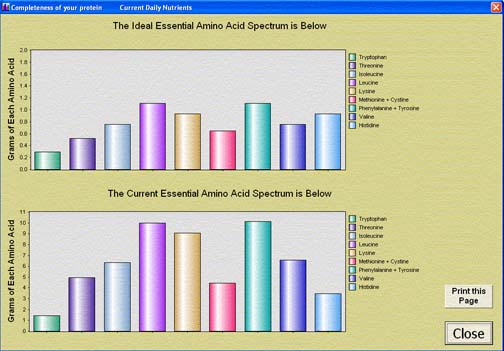 The Graph below shows that a papaya contributed to
this day's vitamin C. The smaller graph on the
right shows how you compare to the
Recommended Daily Allowance (RDA).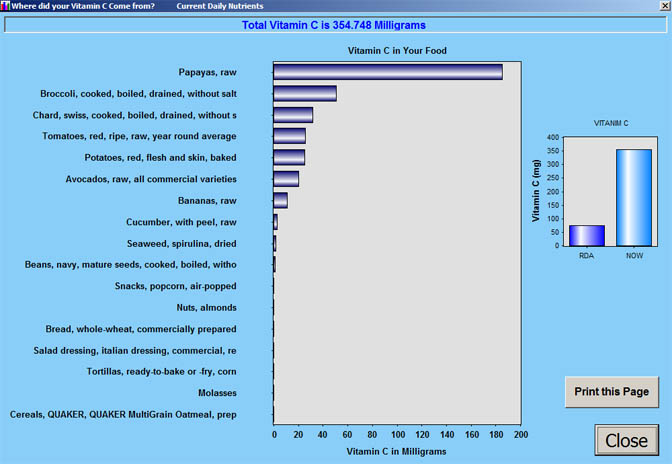 The Graph below clearly shows where the
saturated fat came from in this American diet.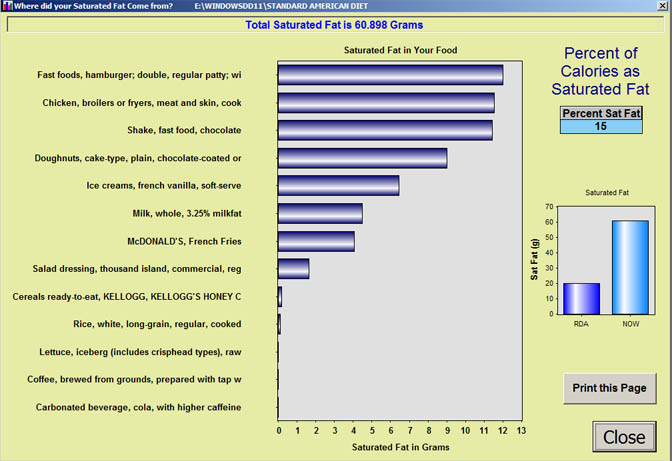 The graph below shows all of the vitamins at a glance.
You can see which are high or low
compared to the RDA levels for your age group.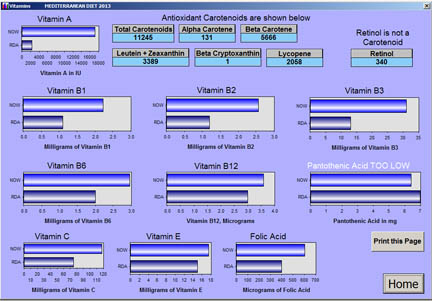 The graph below shows levels of nutrients.
Excessive amounts are labeled in red while
high amounts are labeled in yellow.
Low amounts are labeled in white.
We can learn much from this visual display of our nutrients.
Like a spell checker, no one but you
needs to see areas that need improvement!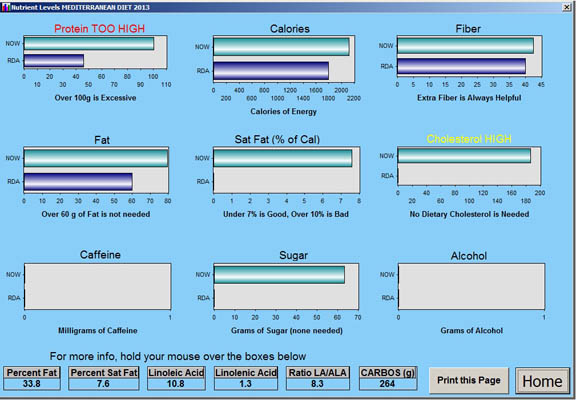 There are a total of 47 color graphs available in
The Diet Doctor Software.
These graphs visually present your nutrition.
The Wizard's Advice
The Wizard offers you healthy diet advice for
natural wellness. "The exclusive Wizard
will give you advice on improving your
diet to promote wellness."
He is a smart and friendly wizard who wants to improve your health.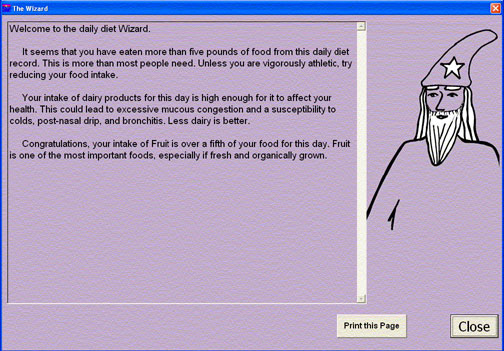 Like a spell checker, only you will see his advice.
Explore a Nutrient
If you find that you are low in a certain nutrient,
you might want to find which foods have lots
of this nutrient. The recommended daily allowance (RDA)
for a healthy diet is included in our advice
for a natural, healthy diet.
If your vitamin E is low, you can see which
foods are highest in vitamin E.
This is detailed, authoritative and most
recent data from the US Department of
Agriculture Food Composition Tables.
The box on the right allows you to choose
which food groups to view. You can choose
just the food groups that you want.
The box on the left shows the foods with
iron in the chosen food groups.
You may be surprised at the foods that have what you need!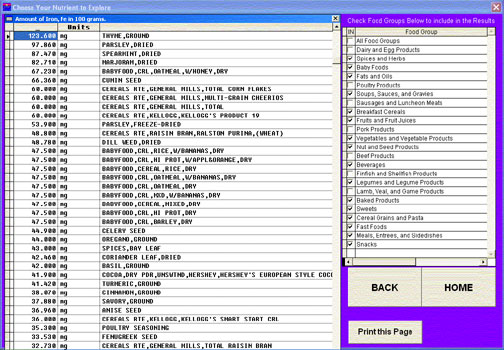 "It is easy to visualize your nutrients with
colorful charts of calories, minerals,
iron, vitamins, minerals and other nutrients."
View a Daily Diet Record
Verify your complete nutrition with The Diet
Doctor nutrition software. Food and diet
information is made easy with the
detailed information in The Diet Doctor
nutrition software. You can easily browse
through all the information about a Daily Diet Record
in the tabbed spreadsheet view shown below.
This view can show you how each food
contributes to your nutrition.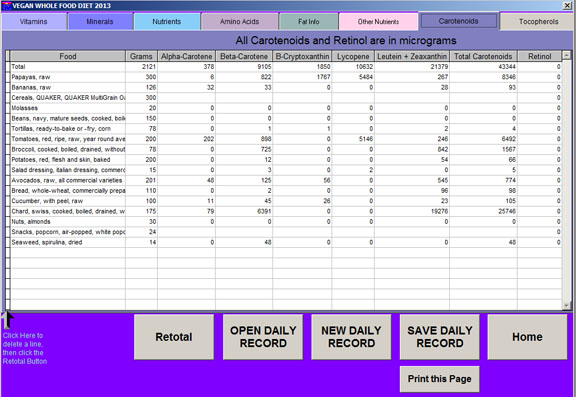 You can even delete a food to see
how it would affect your daily totals.