Now with chapter quizzes!
"I was looking at your book today, and wanted
to tell you how much I appreciate your
excellent writing - you sure are great at
making things understandable for readers!
It is quite wonderful. I am so grateful for the
wonderful work you are doing."
Brenda Davis, Registered Dietician
"Finally! All the information and lowdown
about fats and oils in our food, in layman's
terms! Thank you so VERY much for doing
the research and putting this together for
the average person to educate him or
herself in a way that the food industry
won't. I wouldn't have begun to know
where to look to get all this information.
Thank you again." Mary Branham
Please watch the video below to
learn some of the material contained in
Fats and Oils Demystified:
Please see below for the Introduction,
the back cover, a detailed table of contents
and a list of charts, figures, and graphs.
Introduction
You can make dietary choices that will promote vigorous good health and a slim, fit body that is free of disease. Your choices of what to eat are the keys to excellent health. This book is designed to empower you with the knowledge needed to choose wisely from the tempting array of food that surrounds us.
While every aspect of our diet is important, this book focuses on how you can get the healthy fats and oils you need to maintain good health and how you can avoid the unhealthy fats and oils that contribute to disease. Excellent scientific studies have shown the power of a healthy fat balance to keep us disease-free. A healthy balance of fats and oils can greatly reduce our risk of heart disease, obesity, arthritis, diabetes, strokes, and breast cancer.
Whole, intact beans, nuts, and seeds are all bursting with healthful nutrients. These whole beans, nuts, and seeds do not promote obesity or heart disease. Only in the last century have these beans, nuts, and seeds been routinely plundered for their oils. Oils squeezed out of these healthful whole foods are one of the leading causes of disease worldwide.
Chips and fries, while undeniably tasty, are loaded with unhealthful fats. Liquid oils and solid fats have no fiber, so we do not get the message from our stomachs to stop eating. Like white flour, these oils have been depleted of their healthful vitamins and minerals"they have been transformed into empty calorie junk food.
In the Garden of Eden, any food choice was healthful. In a modern restaurant or supermarket, many of the food choices can be perilous to your health. Our food industry, now taking in well over two trillion dollars per year in the United States alone, has altered our food choices. Our food industry has many priorities other than the health of its customers. In many cases, food marketing is decided in corporate boardrooms based upon profit. Unfortunately, the most profitable foods are often the least healthy. Attempts by our government to make our food more healthful are frequently thwarted by well-funded lobbies.
We now know that food choices contribute to the widespread chronic diseases of today, and we also know that food choices can prevent and even reverse them. Your diet is powerful. We know more than ever about the artery-clogging fats in milk and meat and the contaminants that modern industry introduces into the animals they come from. Modern medicine, for all its heroic efforts, has not tackled the primary cause of so many chronic diseases: diet.
Americans spend the most money per person on health and yet two-thirds of us are overweight. The wars on cancer and heart disease are being lost. Half of Americans are on prescription medication. Over 100 million Americans have elevated blood cholesterol levels. Even our youth are experiencing œadult onset diabetes and high obesity rates. All of these problems can be solved with a change in food choices. In our much-publicized health care debate, we have largely ignored the fact that a healthy diet with the right balance of fats and oils can prevent most chronic diseases. A change in diet is the only way to make our health care system viable.
Who do we trust for health and nutrition information? Real nutrition science has been buried under an avalanche of bought science and endless uninformed opinions. Even the best researchers can be biased when it comes to the foods that their mother served. So many popular books push the author's personal diet without a true understanding of the health effects of fats and oils. I have based the information in this book on hundreds of clinical and intervention trials that look at the relationship between diet and health. I have carefully screened these studies for funding bias, since studies funded by industries are consistent in the support of their own products.
My own study of nutritional biochemistry is based upon the analysis of diets for nutrients. I have developed software to analyze the balance and amount of the important fats and oils in daily diets. Dietary analysis is a convenient and scientific way to show which foods contribute, for example, an excess of saturated fats to a daily diet. I will show you the healthy and harmful components of fats and oils that are revealed by these analytical techniques.
You can become healthier and less dependent on insurance and doctors by choosing healthy food. You can choose to eat less saturated fat and less junk food. My goal is to help you make these choices.
I look forward to your comments and suggestions,
Steve Blake
, June, 2017
A special thanks to Dr. William Harris, M.D. for his generous support of this book project.
Thanks to Catherine Blake for her invaluable editing and design ideas.
Back Cover: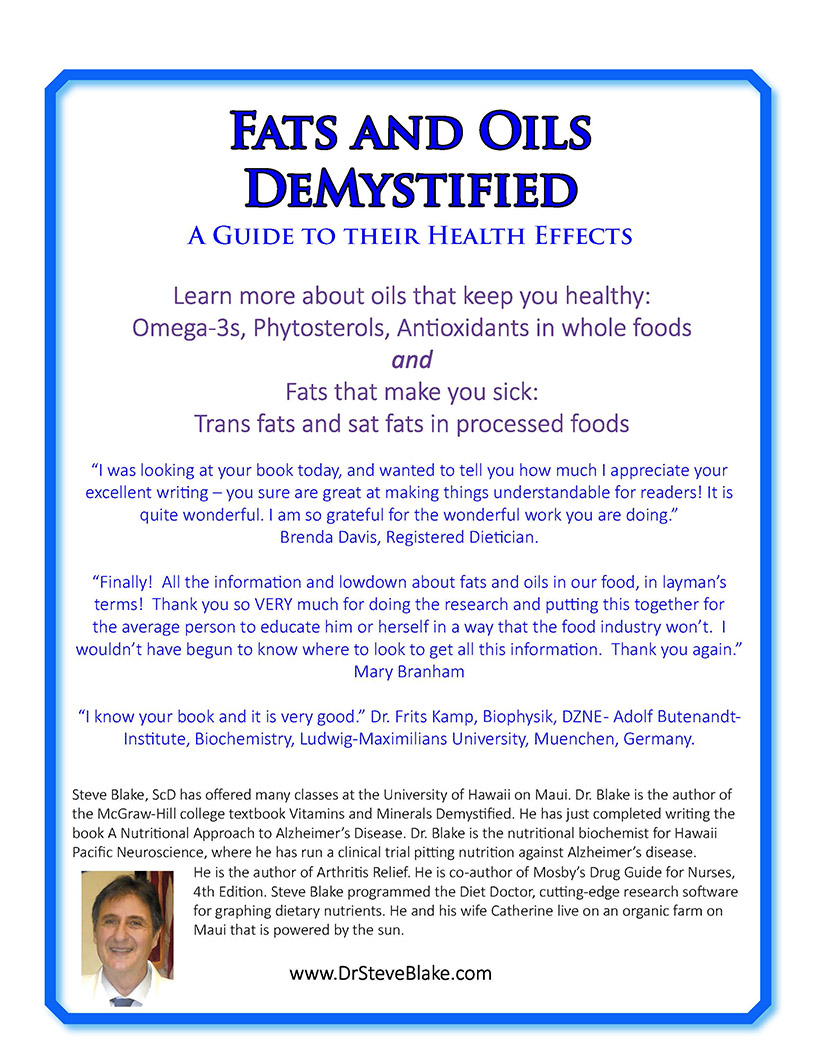 TABLE OF CONTENTS
INTRODUCTION 3
TABLE OF CONTENTS 6
LIST OF FIGURES 13
CHAPTER 1: INTRODUCTION TO DIETARY FATS AND OILS 16
SATURATED FACTS 17
MONOUNSATURATED FACTS 18
JUST THE ESSENTIALS 19
TRANS-FATTY ACIDS, THE BREAD AND BUTTER OF DISEASE 20
THREE KINDS OF FAT 20
WHAT HAPPENED TO OUR FATS AND OILS? 21
DIGESTION AND TRANSPORT OF FOOD FATS 22
COMPARING THE OILS IN FOOD 23
COMPARING FATS AND OILS 24
HOW EPA IS MADE IN THE BODY 25
EICOSANOIDS -CELLULAR ACTIVISTS 26
PUTTING IT ALL TOGETHER 27
QUIZ 28
CHAPTER 2: SATURATED FATS, THE HARD FACTS 31
HOW SATURATED FATS ARE USED IN OUR BODIES 31
HOW EXCESS SATURATED FATS INCREASE BLOOD CHOLESTEROL 31
SATURATED FATS AND DISEASE 33
SATURATED FATS AND DIABETES 34
SATURATED FATS AND BLOOD CHOLESTEROL 34
HOW MUCH SATURATED FAT IS TOO MUCH? 35
SATURATED FATS MADE IN THE BODY 37
SATURATED FATS IN FOOD 37
SATURATED FATS IN DIETS 41
STRUCTURE OF SATURATED FATS 48
LENGTH OF SATURATED FATTY ACIDS 49
THE ACID DELTA END AND THE METHYL OMEGA END 50
QUIZ 52
REFERENCES: 54
CHAPTER 3: MONOUNSATURATED FATS 55
OLEIC ACID 55
DOUBLE BONDS 57
OMEGA-9 FATTY ACID 58
DOUBLE BONDS AND OXIDATION 59
ANTIOXIDANTS THAT PROTECT FATTY ACIDS 60
CIS AND TRANS CONFIGURATIONS 61
BIOLOGICAL IMPORTANCE OF CIS AND TRANS BONDS 62
COMMON MONOUNSATURATED FATTY ACIDS 63
SHORTHAND NOTATION 64
OTHER MONOUNSATURATED FATTY ACIDS 64
COMMON AND UNCOMMON MONOUNSATURATED FATTY ACIDS 66
QUIZ 67
REFERENCES: 69
CHAPTER 4: ESSENTIAL FATS 70
THE MEANING OF ESSENTIAL 70
ACTIVATION OF ESSENTIAL FATTY ACIDS 70
ALA AND LA ARE NEEDED INSIDE OUR BODIES 71
OTHER LONG-CHAIN POLYUNSATURATED FATTY ACIDS 72
LINOLEIC ACID, THE EASY ESSENTIAL FATTY ACID 73
FOOD SOURCES OF LINOLEIC ACID 74
LINOLEIC ACID IN COMMON DIETS 76
THE STRUCTURE OF LINOLEIC ACID 77
ALPHA-LINOLENIC ACID, THE HARD-TO-GET ESSENTIAL FATTY ACID 78
FOOD SOURCES OF ALA 78
ALA IN OILS AND FATS 79
ALA IN SOME COMMON DIETS 81
STRUCTURE OF ALA 82
WHY ALA AND LA CANNOT BE MADE IN THE BODY 84
SUMMARY FOR ESSENTIAL FATTY ACIDS 86
QUIZ 86
REFERENCES: 89
CHAPTER 5: TRANS-FATTY ACIDS, THE BREAD AND BUTTER OF DISEASE 90
INTRODUCTION 90
DIETARY SOURCES OF TRANS-FATTY ACIDS 90
ALTERNATIVES TO PARTIALLY HYDROGENATED OILS 92
FRYING 92
SNACK FOODS 93
BAKERY PRODUCTS 93
THE RISKS OF REDUCING TRANS FATS 94
PALM AND OTHER TROPICAL OILS 94
ANIMAL FATS TO REPLACE HYDROGENATED OILS 94
DESIGNER OILS 94
CHOOSING FOOD LOW IN TRANS-FATTY ACIDS 95
WORLDWIDE VARIATION IN TRANS-FATTY ACID INTAKE 95
TRANS FATS IN FOOD IN AMERICA 97
LABELING DECEIT 97
ABSORPTION AND METABOLISM OF TRANS-FATTY ACIDS 97
HEART DISEASE AND TRANS-FATTY ACIDS 98
TRANS FATS AND BLOOD LIPIDS 99
DIABETES AND TRANS-FATTY ACIDS 100
TRANS-FATTY ACIDS IN INFANTS AND CHILDREN 101
TRANS-FATTY ACIDS FROM DAIRY PRODUCTS AND BEEF 101
STRUCTURE OF TRANS-FATTY ACIDS 103
CONJUGATED LINOLEIC ACID 108
TRANS-FATTY ACID SUMMARY 111
QUIZ 111
REFERENCES: 114
CHAPTER 6: THREE KINDS OF FAT -TRIGLYCERIDES, PHOSPHOLIPIDS, AND CHOLESTEROL 116
TRIGLYCERIDES IN FOOD, IN FAT CELLS, AND IN BLOOD 116
USES OF TRIGLYCERIDES IN THE BODY 116
THE SHAPE OF TRIGLYCERIDES 117
DIGESTION OF TRIGLYCERIDES 120
HEALTH EFFECTS OF EXCESS TRIGLYCERIDES 121
PHOSPHOLIPIDS 122
PHOSPHATIDYLINOSITOL 126
PHOSPHATIDYLSERINE 126
PHOSPHATIDYLCHOLINE 126
PHOSPHATIDYLETHANOLAMINE 127
SPHINGOLIPIDS 127
CHOLESTEROL AND PLANT STEROLS 128
PLANT STEROLS 131
QUIZ 133
REFERENCES: 136
CHAPTER 7: WHAT HAPPENED TO OUR FATS AND OILS? 137
THE USES OF FATS AND OILS 137
HOW OIL USED TO BE MADE 137
MODERN OIL PROCESSING 138
COMPOSITION OF CRUDE FOOD OILS 138
CHANGING THE SEEDS 139
COLD PRESSED OILS 140
PREPARING THE SEEDS, BEANS, OR GRAINS FOR PROCESSING 141
EXPELLER PRESSED OILS 141
HEXANE EXTRACTION OF OILS 141
THE LOSS OF LECITHIN: DEGUMMING 144
CAUSTIC REFINING 144
BLEACHING OF EDIBLE OILS 145
DEWAXING 146
HYDROGENATION 146
WINTERIZATION 148
DEODORIZATION OR PHYSICAL REFINING 148
VITAMIN E LOST IN OIL PROCESSING 149
CHEMICALS LEACHING INTO OILS FROM BOTTLES 150
FAKE FATS 151
INTERESTERIFICATION 151
STRUCTURED LIPIDS 151
DAG: DIACYLGLYCEROL 152
FAT MIMETICS AND FAT SUBSTITUTES 152
QUIZ 153
REFERENCES: 155
CHAPTER 8: DIGESTION AND TRANSPORT OF FOOD FATS 157
DIGESTION OF FATS AND OILS 157
DIGESTION OF FATS IN THE MOUTH AND STOMACH 157
BILE EMULSIFIES FAT 158
VERY LOW FAT DIETS 158
BILE COMPOSITION AND ACTION 159
DIGESTION OF FATS AND OILS IN THE INTESTINE 160
BLOOD CHOLESTEROL, STEROLS, AND BILE 161
ABSORPTION OF LIPIDS 162
CHYLOMICRONS 163
LIPOPROTEINS: TRANSPORT OF LIPIDS THROUGH THE BLOODSTREAM 165
CHYLOMICRON TRANSPORT 165
VERY LOW DENSITY LIPOPROTEINS 166
VITAMIN E AND LIPOPROTEINS 166
LDL: LOW DENSITY LIPOPROTEINS 168
HIGH DENSITY LIPOPROTEINS 169
MEASURING BLOOD LDL AND HDL LEVELS 170
MEASURING TOTAL SERUM CHOLESTEROL 171
RATIOS OF LIPOPROTEINS 171
METABOLISM OF FATS AND OILS 172
QUIZ 174
REFERENCES: 176
CHAPTER 9: FATS AND OILS IN FOOD 178
NUTS AND SEEDS 178
OLEIC ACID IN NUTS AND SEEDS 178
SATURATED FATS IN NUTS AND SEEDS 179
VITAMIN E IN NUTS AND SEEDS 180
ALPHA-LINOLENIC ACID IN NUTS AND SEEDS 182
LINOLEIC ACID IN NUTS AND SEEDS 183
FATTY ACIDS IN COMMONLY SELECTED FOOD CHOICES 185
TOTAL FAT IN FOOD 186
SATURATED FAT IN FOOD 187
CHOLESTEROL IN COMMON FOOD SELECTIONS 189
TRANS FATS IN SELECTED FOODS 190
MONOUNSATURATED FATS IN SELECTED FOODS 190
LINOLEIC ACID IN SELECTED FOOD SOURCES 191
ALPHA-LINOLENIC ACID IN SELECTED FOOD SOURCES 193
EPA AND DHA IN SELECTED FOOD SOURCES 194
VITAMIN E IN SELECTED FOOD SOURCES 195
QUIZ 196
REFERENCES: 198
CHAPTER 10: COMPARING FATS AND OILS 199
WHAT MAKES AN OIL OR FAT HEALTHY? 199
A NICE BALANCE OF THE ESSENTIAL FATTY ACIDS 199
OILS NEED THE PROTECTION OF VITAMIN E 200
AVOID TRANS FATS 200
SATURATED FATS 201
ORGANIC OILS ARE HEALTHIER 202
PROCESSING CAN RUIN A GOOD OIL 202
COMPARING FATS AND OILS 202
BUTTER 202
CANOLA OIL 203
COCOA BUTTER 205
COCONUT OIL 206
CORN OIL 208
COTTONSEED OIL 209
FLAX OIL 209
LARD 210
OLIVE OIL 210
PALM OIL 211
PEANUT OIL 212
SAFFLOWER OIL 213
SESAME OIL 213
SOYBEAN OIL 214
SUNFLOWER OIL 215
VEGETABLE SHORTENING 216
GENETIC ALTERATION OF OIL SEEDS 217
MUTAGENIC BREEDING 217
GENETIC ENGINEERING 218
QUIZ: 219
REFERENCES: 221
CHAPTER 11: COMPARING LESS COMMON OILS 223
UNCOMMON OILS 223
ALMOND OIL 223
AMARANTH OIL 223
APRICOT KERNEL OIL 224
AVOCADO OIL 224
BLACK CURRANT OIL 225
BORAGE OIL 226
CANDLENUT OIL 226
CARAWAY OIL 227
CASHEW OIL 227
CHERRY OIL 227
CHIA OIL 227
ECHIUM OIL 228
EVENING PRIMROSE OIL 229
GOLD OF PLEASURE OIL 229
GRAPESEED OIL 230
HAZELNUT OIL 231
HEMP OIL 231
HONESTY SEED OIL 232
MACADAMIA NUT OIL 232
MANGO OIL 232
MARIGOLD OIL 233
NIGELLA OIL 233
NIGER OIL 233
NUTMEG BUTTER 234
OAT OIL 234
PASSIONFRUIT SEED OIL 235
PERILLA SEED OIL 235
PISTACHIO NUT OIL 236
POPPY SEED OIL 236
PURSLANE SEED OIL 236
RICE BRAN OIL 236
SHEA BUTTER 237
WALNUT OIL 237
WHEATGERM OIL 237
QUIZ 238
REFERENCES: 240
CHAPTER 12: EICOSANOID PRECURSORS, HOW EPA IS MADE 242
HOW THE ESSENTIAL FATTY ACIDS ARE ELONGATED AND DESATURATED 242
CAN OUR BODIES MAKE ENOUGH EPA OR DO WE NEED TO EAT FISH OR FISH OILS? 243
DIETARY GUIDELINES AND INTAKES FOR EPA AND ALA 245
COMPETITION FOR THE DESATURATION ENZYMES 246
THE RATIO OF LA TO ALA 247
HORMONES AFFECT DESATURATION 250
NUTRITION AND DESATURATION 252
OTHER FACTORS THAT AFFECT DESATURATION 253
CONVERSION OF ALA TO EPA, STEP BY STEP 254
BLOOD LEVELS OF EPA AND ARACHIDONIC ACID 256
QUIZ 257
REFERENCES: 260
CHAPTER 13: EICOSANOIDS -CELLULAR ACTIVISTS 262
EICOSANOID PRECURSORS 262
EICOSANOIDS 262
EICOSANOIDS IN INFLAMMATION 263
THE EICOSANOIDS 264
THROMBOXANES 264
THE BALANCE BETWEEN SERIES 2 AND SERIES 3 THROMBOXANES 265
THE BIOSYNTHESIS OF THROMBOXANE 267
LEUKOTRIENES 268
BIOSYNTHESIS OF LEUKOTRIENES 268
ASTHMA AND LEUKOTRIENES 268
INFLAMMATION AND LEUKOTRIENES 269
PROSTACYCLINS 270
BLOOD CLOTTING AND PROSTACYCLINS 271
KIDNEYS AND PROSTACYCLIN 271
ASPIRIN, PROSTACYCLIN, AND THROMBOXANE 272
PROSTAGLANDINS 274
BIOSYNTHESIS OF PROSTAGLANDINS 276
DIETARY FATTY ACIDS AND PROSTAGLANDINS 277
REGULATION OF PROSTAGLANDINS 277
PROSTAGLANDIN E, PGE 278
INFLAMMATION AND PGE 279
BLOOD CLOTTING AND PGE 279
IMMUNE RESPONSE AND PGE 280
LUNGS AND PGE 280
DIGESTION AND PGE 280
OTHER EFFECTS OF PGE 281
PROSTAGLANDIN D, PGD 282
PROSTAGLANDIN F, PGF2? 282
PROSTAGLANDIN J, PGJ 283
PGJ AND TUMORS 283
QUIZ 284
REFERENCES: 286
CHAPTER 14: HEART DISEASE AND DIETARY FATS 288
INTRODUCTION 288
HEART ATTACK RISK FACTORS 289
DIETARY SATURATED FAT AND HEART DISEASE 290
DIETARY TRANS FAT AND HEART DISEASE 292
DIETARY CHOLESTEROL AND HEART DISEASE 295
THE EXTENT OF THE PROBLEM 296
HOW HEART ATTACKS HAPPEN 297
TO AVOID A HEART ATTACK 297
ACTIVITY AND FITNESS 299
STRESS REDUCTION AND RELAXATION 300
QUIZ 301
REFERENCES: 303
ANSWERS TO QUIZZES 305
INDEX 306
List of Figures
Figure 1 How excess saturated fats raise blood cholesterol 33
Figure 2 The saturated fatty acid content of one serving of various foods 38
Figure 3 The amount and variation of saturated fats in some common nuts and seeds 39
Figure 4 A comparative graph of saturated fats in common livestock products 40
Figure 5 The amount of saturated fats in two tablespoons of common fats and oils 41
Figure 6 Graph of saturated fat in an Atkin's diet 42
Figure 7 Graph of saturated fat in a typical American diet 43
Figure 8 Graph of saturated fat in a Mediterranean diet 44
Figure 9 Graph of saturated fat in a transitional vegetarian diet 45
Figure 10 Graph of saturated fat in a whole food vegan diet 46
Figure 11 Graph of saturated fat in a raw food vegan diet 47
Figure 12 Graph of saturated fat in a diet for preventing heart disease 48
Figure 13 Chart of saturated fatty acids 49
Figure 14 The structure of a saturated fatty acid 50
Figure 15 Structures of 4 saturated fats: lauric, myristic, palmitic, and stearic acids 51
Figure 16 Graph of oleic acid in nuts and seeds 55
Figure 17 Graph of oleic acid in common oils 56
Figure 18 The structure of unsaturated bonds 57
Figure 19 The structures of oleic acid and stearic acid showing a double bond 58
Figure 20 3-D structure drawings of stearic acid (left) and oleic acid (right) 59
Figure 21 Structural differences between natural cis and trans double bonds 62
Figure 22 3-D drawings of cis and trans double bonds 63
Figure 23 Structural differences with positional isomers in two fatty acids 65
Figure 24 Chart of monounsaturated fatty acids with examples 67
Figure 25 Important roles for essential fatty acids and their derivatives 71
Figure 26 Graph of linoleic acid content of some common foods 75
Figure 27 Graph of linoleic acid content of some common oils 76
Figure 28 The structure of linoleic acid showing the double bond at omega-6 77
Figure 29 Food sources of the essential fatty acid ALA 79
Figure 30 Graph of ALA content of some common oils 80
Figure 31 Chart of LA and ALA in eight diets with added flax powder 82
Figure 32 Structure of alpha-linolenic acid 83
Figure 33 Delta-5 desaturase and the structure of EPA 85
Figure 34 Chart of trans fats in dairy products versus hydrogenation in 5 countries 91
Figure 35 Major sources of trans fats in America 96
Figure 36 Structural difference between natural and trans-fatty acids 104
Figure 37 Structure of trans-oleic acid and vaccenic acid 105
Figure 38 3-D structure of trans-oleic, oleic, and stearic acids with melting points 106
Figure 39 Chart of trans isomers in milk fat and from hydrogenation 107
Figure 40 Structure of a conjugated fatty acid 109
Figure 41 3-D representation of a triglyceride 118
Figure 42 3-D representation of trans-oleic acid 119
Figure 43 3-D representation of stearic acid 119
Figure 44 3-D representation of natural cis-oleic acid 119
Figure 45 A triglyceride with bent unsaturated fatty acids 120
Figure 46 A triglyceride with straight saturated fatty acids 120
Figure 47 Comparing structures of triglycerides and phospholipids 122
Figure 48 Phospholipid content of coconut, canola, and soy oils 123
Figure 49 Comparing structures of four types of phospholipids 123
Figure 50 Phospholipids in cell membranes 125
Figure 51 The structure of sphingomyelin, a type of sphingolipid 128
Figure 52 The structure of cholesterol 129
Figure 53 The structure of stigmasterol, a plant sterol 130
Figure 54 Phytosterol content of plants. Open bars are free and black bars are esterified.132
Figure 55 Phytosterol content of nuts and seed. Black bars are beta-sitosterol, campesterol, and stigmasterol. Grey bars are other phytosterols. 133
Figure 56 Some oils have not been genetically engineered or mutated 140
Figure 57 Some genetically engineered oils 140
Figure 58 Oils not normally extracted with the solvent hexane 142
Figure 59 Oils routinely extracted with the solvent hexane 143
Figure 60 Beneficial nutrients eliminated during bleaching of oils 146
Figure 61 Hydrogenation changes melting temperatures 147
Figure 62 Triglyceride structure, black is carbon, white is hydrogen, and red is oxygen 157
Figure 63 Bitter tonics can stimulate bile after fatty meals 159
Figure 64 How hydrolysis splits two fatty acids off of a triglyceride 160
Figure 65 Micelles have water-soluble outsides to make fats in the middle accessible 163
Figure 66 Chylomicrons transport dietary lipids 164
Figure 67 Vitamin E to protect LDL 167
Figure 68 How VLDL becomes LDL, with changes in cholesterol and triglycerides 168
Figure 69 The liver makes fifty quadrillion molecules of cholesterol 169
Figure 70 Healthiest ratios between total cholesterol and HDL 170
Figure 71 Involvement of B-vitamins in the metabolic burning of fat 172
Figure 72 Graph of oleic acid in common nuts and seeds 179
Figure 73 Graph of saturated fats in selected nuts and seeds 180
Figure 74 Graph of alpha-tocopherol in nuts and seeds 181
Figure 75 Graph of total tocopherols in vitamin E, in nuts and seeds 182
Figure 76 Graph of ALA in selected nuts and seeds 183
Figure 77 Graph of linoleic acid in selected nuts and seeds 184
Figure 78 Chart of food servings to be analyzed 185
Figure 79 Graph of total fat in common foods 186
Figure 80 Graph of saturated fat in common foods 188
Figure 81 Graph of cholesterol in common foods 189
Figure 82 Graph of trans fat in common foods 190
Figure 83 Graph of monounsaturated fat in common foods 191
Figure 84 Graph of linoleic acid, a plant-based omega-6, in common foods 192
Figure 85 Graph of ALA in common foods 193
Figure 86 Graphs of EPA and DHA in food 194
Figure 87 Graph of vitamin E in selected foods 195
Figure 88 Graph of saturated fats in common oils 201
Figure 89 Graph of ALA in common oils with ratios of LA/ALA 205
Figure 90 Balancing the essential fatty acids in cooking oils 206
Figure 91 Graph of vitamin E in common oils 208
Figure 92 Which is the best oil? 212
Figure 93 Graph of oleic acid in common oils 216
Figure 94 Graph of vitamin E in less common oils 225
Figure 95 Graph of gamma-linolenic acid in some oils 226
Figure 96 Graph of oleic acid in some less common oils 229
Figure 97 Graph of linoleic acid in some less common oils 231
Figure 98 Graph of saturated fats in some less common oils 234
Figure 99 Graph of alpha-linolenic acid (ALA) in some less common oils 235
Figure 100 Omega-3 and omega-6 eicosanoid precursors 243
Figure 101 The formation of eicosanoid precursors 246
Figure 102 Graph of ALA content of some common oils 248
Figure 103 Chart of the ratio of LA to ALA in selected diets 249
Figure 104 Effects of hormones on the desaturation of ALA 251
Figure 105 Effects of nutrition on the desaturation of ALA 253
Figure 106 Structural changes with delta-6 desaturase converting ALA to stearidonic acid 254
Figure 107 Structural changes of the conversion of stearidonic acid to eicosatetraenoic acid 255
Figure 108 Structural changes of the conversion of eicosatetraenoic acid to EPA 256
Figure 109 Types of eicosanoids 263
Figure 110 Eicosanoid creation diagram 265
Figure 111 The biosynthesis of eicosanoids from arachidonic acid 267
Figure 112 Inflammation triggered by leukotrienes 269
Figure 113 Biosynthesis of prostacyclin 270
Figure 114 Actions of prostacyclin 271
Figure 115 Prostacyclin, thromboxane, and NSAIDs 272
Figure 116 Prostaglandins and their formation 274
Figure 117 Series 1, 2, and 3 prostaglandins 276
Figure 118 Chart of eicosanoids made from arachidonic acid and their functions 282
Figure 119 Normal artery on the left and mostly clogged artery on the right 288
Figure 120 Dietary factors that raise blood cholesterol 289
Figure 121 Damaged artery in A is healed with a low-fat plant-based diet (courtesy Esselstyn) 290
Figure 122 Dietary fat and heart attack risk 291
Figure 123 Animal fat versus heart deaths 292
Figure 124 Chart of saturated fat plus trans fat 293
Figure 125 Dietary factors affecting the risk of heart attacks 294
Figure 126 Sources of trans fats in American adult diets (USDA) 295