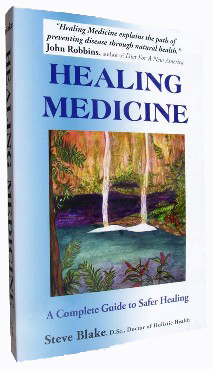 Healing Medicine
A Complete Guide to Safer Healing
Steve Blake, ScD, Doctor of Holistic Health
Created in response to the growing need for a
safer and more effective health care system,
Healing Medicine provides natural self-care
solutions that teach you how to create a lifetime of health without drugs.

Retail price $22.95.
Printed book. Special price $20 +$5 shipping:


Buy the E-Book Download version for $9.95 Below:
Key Features:
Reduce your risk of chronic diseases such as
cancer & heart disease. Learn to cleanse and
strengthen body systems. Avoid the secret
dangers of food processing. Discover a
deeper diagnosis that reveals the true
causes of disease. Learn to avoid the perils of
modern medicine. Find out how to prevent
stress and dynamically relax. We need a new
medical system that starts with guarding our
health, continues with safer, natural approaches,
and is completed with powerful medical techniques.
This book is full of new ideas!
"A very thorough analysis of the state of modern medicine...a very balanced approach"
Charles Inlander, author of Medicine on Trial.
320 pages, $22.95 ISBN 0-9755016-7-4 HEALING MEDICINE A Complete Guide to Safer Healing Wholesale Orders Please Email (mail@naturalhealthwizards.com)
You may send us mail or a check at this address:
Steve Blake LifeLong Press P O Box 81426 Haiku, HI 96708