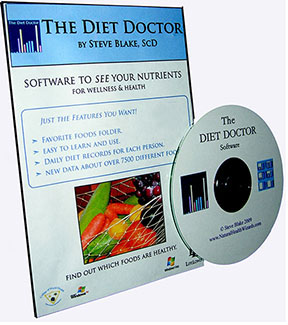 The Diet Doctor 2018

by Steve Blake, ScD

"Hi Doctor Blake, I have downloaded the software and I love it.
This program will help me tremendously with my studies.
Thank you for creating such an awesome program. With much respect, Eric Dykes"

New! Easier and faster interface.

New! Antioxidant carotenoids are now revealed.

New! A "One Food" button to check nutrition if you ate just one food all day.
A great way to see if a food is a nutritional winner or a loser.

Latest data with complete vitamin D info

Vitamin E is now a sum of the separate tocopherols and they are all displayed.

Hundreds of new foods listed since 2015!!
.


New! Fat data...Essential fatty acids and their ratio,
Percent of calories as fat and saturated fat,
Exact info on Oleic, Lauric, Myristic, and Palmitic acids in food.
EPA, DHA, and Arachidonic acid are now calculated and displayed.
Over 8600 Foods to Choose From

Improve your diet with this nutritional software database to help you analyze a healthy diet.
The entire NEW USDA food composition database, release 28.
Runs on Windows or Mac with Crossover.

Special Price until April 30. 2018 Retail Price $299.00

Choose which version to buy, then Click the button below

Download $200.00

CD-Rom Mailed $225.00

Click below to:

How to choose the food that you ate
Please watch the video below to see how the
Diet Doctor is used to analyze diets:
I love the graphs like the one below, because they show which foods contributed to, in this case, your fiber intake.

The main nutrient screen shows protein and fiber.
Along the bottom are percentage of calories as saturated fat.
Also shown are the essential fatty acids and their ratio.

The vitamin E graph below shows which food contributed to your intake and also show the individual tocopherols.

Carotenoids like lycopene are important antioxidants.
They are now displayed along with total vitamin A and retinol.

This program is used by everyone who needs reliable information about nutrients in diets.
Nutritionists, chiropractors, naturopathic doctors, holistic practitioners,
dieticians, personal trainers and other health professionals look to
The Diet Doctor nutrition software. Mothers use this software to evaluate their family's nutrition.

Some of the new food choices added this year:
Breakfast cereals, Greek yogurt, pesto sauce, baby foods,
sriracha sauce, wasabi, horseradish sauce, low-sodium bacon,
reduced and low-sodium sausages, pepperoni, goji berries,
several beverages including bottled tea and coffee, coconut milk,
hard cider, malt beverage, fruit-flavored fruit drinks, and mixed fruit juices,
whole grain pastas, fast food submarine sandwiches, smoothies (both fruit and vegetable),
and mushrooms exposed to ultraviolet light.
A number of meat substitutes intended for individuals choosing
not to consume meat products have also been added or updated.